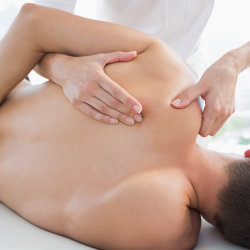 Back pain or spinal pain and dysfunction is where TherapyXperts excels.  Clinic founder Mairead O'Riordan has made study, assessment and active evidence-based intervention in spinal pain her life's work. 
With nearly 40 year's clinical experience, having taught in TCD School of Physiotherapy, completed a Master's experimental Dissertation in neck muscle dysfunction and trained numerous colleagues over the years, Mairead and her team bring a wealth of clinical knowledge and experience to this most complex area of the body.
It is the complexity of the interaction between the anatomy of the spine, the joints that create movement, ligaments that assist spinal stability and musculature that keeps us upright, moves in every direction, allows us to push, pull, and live life to the full, that makes diagnosing and treating back and neck pain so interesting, challenging and rewarding to the team at TherapyXperts Maynooth.
In spite of what you may think, medical understanding of what happens to cause and maintain back pain has improved dramatically in recent decades. The knowledge gained from MRI scanners, microsurgery and clinical research means that coming up with a specific individual diagnosis of the exact issue in the spine is now clinically clear in the majority of cases.
Here in TherapyXperts we have successfully treated thousands, literally thousands, of 'bad' necks and backs. 
Our wholistic approach is to delve in detail into
when the pain or dysfunction emerged,
what the individual was doing in the period before the symptoms emerged,
their lifestyle, general health, work, leisure pursuits, sleeping positions, fitness levels…
their understanding and mindset around back pain
familial history of spinal issues
In fact, everything and anything that impacts on spinal movement. 
With our experience, we are happy to see patients on self-referral, or referral from GP or Consultants.  Most commonly x-rays and MRIs are NOT NECESSARY in advance of making an appointment at TherapyXperts Physio.  If our clinical assessment suggests radiography is required, we can liaise with your referrer or refer you to MRI facilities locally.
Over many years and many patients, we have developed good working relationships with a small number of Consultant Spinal Neurosurgeons and Specialist Spinal Orthopaedic Surgeons which ensure that we can confidently refer directly and speedily in the rare cases where surgery may be required.
Read more
Spinal anatomy:
Discs are found between every two vertebrae (spinal bones), so we have 22 discs from the neck to lower back. The structure and size of each disc varies as you go down the spine, with the largest discs (and most prone to damage) found in the low back just below the waistline.
A lower back or lumbar disc is about 5mm thick. It comprises outer fibrous rings surrounding an inner pulpy semi-liquid core. The fibrous rings are solidly attached to the bottom and top of the vertebrae above and below. This attachment anchors each disc in place, ensuring that the rings which form the outer component of the disc absolutely cannot 'slip' forwards, backwards or in any direction.
This is why the term 'slipped disc' has fallen out of medical use, as it does not in any way accurately describe what has gone wrong in the back. Other things happen to discs but 'slipping' is not one of them.
Disc anatomy:
So what does happen? The key to the function of the disc is the inner pulpy centre, called the nucleus fibrosis. The nucleus acts like a soft deformable ball- bearing assisting spinal movement in all directions. The bony vertebrae above and below, coupled with fibrous rings surrounding the nucleus means that the pulpy centre is always held under pressure. Think of the rings as a tube of toothpaste and the nucleus as the paste within.
Disc Damage: degenerative (cumulative, ageing related) / acute tear

Read more
Disc Damage: degenerative (cumulative, ageing related) / acute tear
As we age and cumulatively use our spines more and more, the disc begins to show signs of wear. With age, repeated or awkward movements of the spine the outer rings begin to yield to the internal pressure from the nucleus. The rings develop microscopic damage in the form of tiny cracks or fissures. This is the first stage of disc trauma or disc disease. Gradually or occasionally suddenly, the cracks become bigger until a full tear of one, several or all rings occur.
Read more
Sciatica:
Sciatica is the term applied to leg pain emanating from the back. The term is widely used and refers to pressure or compression of the Sciatic Nerve. Nerves coming from the lowest levels of the moveable spine join up either side becoming a thickest nerve trunk in the body (the width and girth of an index finger or thumb in adults). This nerve trunk is called the Sciatic Nerve. ANY and all problems affecting the Sciatic Nerve are labelled 'Sciatica'.
However the nerve can be compressed by several different structures around and outside the spine, each of which brings on similar symptoms of varying degree in the leg. Accurate clinical diagnosis of the faulty structure is vital from a therapeutic standpoint, as different structures compress this major nerve in different manners. Each may require a different type of therapeutic intervention to take off the compression and restore the nerve to full health.
Conservative Management of Backpain:

Read more
Conservative Management of Backpain:
The vast majority of backpain responds well to conservative (i.e. non-surgical) management. Physiotherapy, with a multitude of knowledge, clinical skills and techniques can assist in resolving most types of back pain.
Conservative management commences with taking a careful history. Issues addressed include when the pain came on, whether acutely or gradually over time, how the pain and related spinal movement dysfunction impacts on the person's lifestyle, what aggravates symptoms, how symptoms ease of their own accord and numerous other factors. The physiotherapist then performs a careful clinical assessment using validated tests (tests which have been proven by scientific research to provide valid information and results). Synthesis of the history of the presenting backpain and its clinical signs allows formation of a specific structural diagnosis where the actual faults are identified.
Most backpain is mechanical to some extent. Mechanical issues can be treated with
• manual therapy
• therapeutic exercise addressing both flexibility and muscle strength
• pain relieving techniques (manual therapy, electrotherapy, acupuncture, soft tissue release, etc.)
• advice on overcoming the current presentation and preventing re-occurrence
• long term maintenance to prevent relapse
Mechanical backpain, often referred to as 'simple' backpain in the medical literature usually responds well to mechanical intervention and pharmacology
(over the counter or G.P prescribed).
Read more
Back Surgery:
Most back surgeons operate on strict criteria before offering surgery. Back surgery is one of the many areas of medicine that has moved on greatly with the advent of accurate diagnosis (MRI scanning being the Gold Standard).
Though not without risk, microscopic back surgery for disc prolapse plays a very important role for a small category of patients with severe back or leg pain who have not responded to conservative management. Most disc surgery now is done as by keyhole or arthroscopic technique where very fine instruments are introduced into the spinal canal to pinch off the piece of prolapsed disc material, relieving compression on the nerve. Often only requiring a short hospital stay and a four – sic week recovery and rest from work, most patients recover fully after surgery, though it is vital to regain fully rehabilitate the back and regain strength in order to make a full recovery.
Read more
Pain & the Brain
Some of the new knowledge and research areas in chronic pain prove that persistent pain is a complex brain issue. New generation scanners such as PET/ fMRI are showing that chronic pain causes widespread changes within the brain. Research is beginning to challenge old ideas on pain and is beginning to lead to new treatment methods for longstanding pain.
One current explanation for chronic pain compares the pain-flooded brain to a computer with a software virus. If you have ever inadvertently downloaded a virus you know the widespread damage it can do to the computer. Imagine chronic pain in the brain just like a destructive chemical virus in your P.C.
Ongoing pain is partially attributed to changes in chemical concentrations in the brain. These chemicals sensitise the brain to pain messages from any source.
In normal instances, when pain messages arrive from a distant body region, the brain can 'choose' to listen to the pain or not. Subconsciously the brain surveys the situation and makes an accurate decision as to the seriousness of the pain in the circumstances. In life-threatening situations such as war, the brain may dampen pain in order to save a life. However this selectivity goes out of kilter in chronic pain. The brain seems to lose this ability to analyse and prioritise pain. Instead all incoming pain messages are given high priority.
A threshold level alters in the brain to decide when and how pain is acknowledged. This threshold is unique to each individual and can go up (so it takes more pain before the brain 'listens') or down (the brain becomes more sensitive to a smaller amount of pain). This is thought to explain why people rate apparently similar pain at different levels.
In people experiencing persistent pain researchers believe that the presence of pain over time gradually lowers the threshold at which the brain 'reads' both overall levels of pain and any extra pain messages. So despite what you might think, people in pain gradually tolerate less and less pain as they become more sensitised to it.
Knowing this happen offers a huge challenge to those of us who deal with patients in pain. The race is on to develop specific chemical agents, drugs, to reduce pain and raise threshold levels towards those of the painless population. New drugs on the market help some, though one person's good response may not be the same as the next.
Improved understanding of persistent pain is crucial for pain ridden patients to begin to gain some control of the situation.